The coffee project is a demonstration and publicity run for Bio-Bean's fuel, which is derived from diesel and oil collected from discarded coffee grounds.
Bio-Bean says that their process saves 6.8 metric tons (7.5 tons) of Carbon dioxide emissions per one metric ton (1.1 ton) of waste coffee grounds recycled.
Bio-Bean company recycles used grounds from some of the UK's biggest coffee chains, as well as mom-and-pop cafes and businesses at all London train stations. The resulting waste from our caffeine addiction is then usually sent to a landfill where it has the potential to emit a whopping 126million kg of CO2.
While Bio-Bean claims it's the first company in the world to do this type of recycling, it's not the only one testing the efficiency of coffee waste. Importantly, the new biofuel can be used by the buses in use now as is - there's no need to modify the buses using the fuel in any way.
The company has produced 6,000 liters of coffee oil for the pilot project with London's transportation authority - enough to help power the equivalent of one city bus for a year.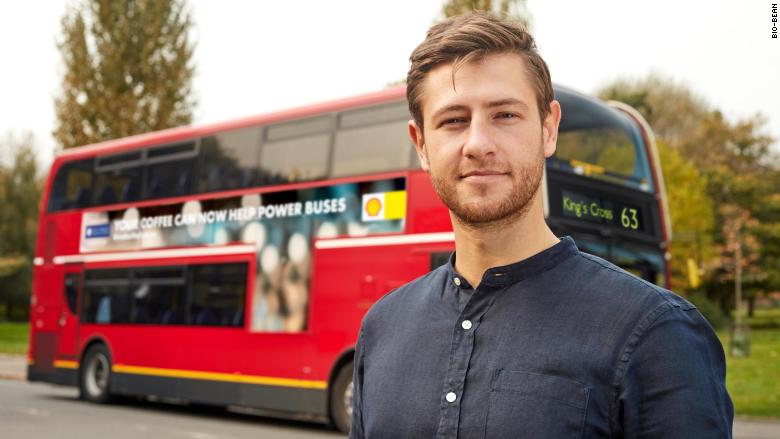 Bio-bean founder Arthur Kay helped develop coffee oil that can be used to power buses
They produce less smoke and soot than conventional fuel and also less risky chemicals such as sulphur which is the leading cause of acid rain.
"It's a great example of what can be done when we start to reimagine waste as an untapped resource", Bio-Bean Founder Arthur Kay said in a statement to the BBC.
Bio-bean has a processing plant at Alconbury Weald. Bio-Bean also forms other waste grounds into biomass pellets which can be burnt in fireplaces or stoves for home heating.
Last week scientists said it could take 50 years for biofuels to reduce carbon emissions as they were created to do.