"I love a loud crowd, whether they are European or for us".
Rafa Nadal has pulled out of his Laver Cup matches on Sunday due to inflammation in his hand, denying fans the opportunity to see him partner Roger Federer in the doubles on the final day of the tournament in Geneva.
In other singles matches, Federer squares off against Isner while Alexander Zverev meets Raonic.
Alexander Zverev fought the nerves and got over a tough season by winning the Laver Cup for Team Europe.
Team World had started the day 7-5 behind.
It gave Europe a 13-11 overall win and sparked wild celebrations with captain Bjorn Borg, Federer and Nadal racing on to the charcoal-coloured court to swamp Zverev.
After being stunned by a handsome fan, Kyrgios was unable to return to the imperious form that saw him take the first set as Federer battle back into the contest to claim victory 6-7, 7-6, 10-7. Starting all over, Zverev grabbed two mini-breaks to move 5-2 and 7-3 in front with a backhand victor, landing another one in the 13th point and cracking another one from the forehand wing to seal the deal and start to celebrate with pumped teammates who were there to support him in every point from start to finish.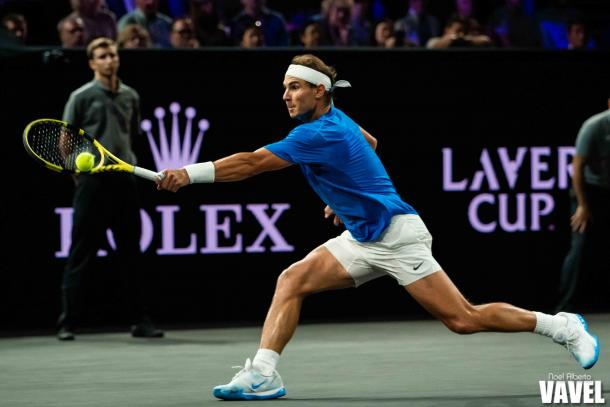 Two hours earlier, Federer had delighted a sold-out crowd of 17,000 in his home country by beating John Isner 6-4, 7-6 (3) to set up the winner-take-all finale.
Their words of wisdom paid handsome dividends as Zverev fed off the energy from the crowd to play a superb tiebreaker.
Nadal said his hand was swollen and that he was pulling out of the tournament with deep regret.
American McEnroe looked crestfallen in defeat but congratulated his old adversary Borg. I'm very proud of my team. It was awesome. You found a way to get it done. Federer was also scheduled to team up with Nadal in doubles, but Tsitsipas stepped in at the last minute.
"We need to be a little bit more clear with the finger", Nadal initially was serious while explaing.
Nadal then could not control his laughter and said, "Because I didn't understand where you were going".
"It makes it more special".